Writer: Geoff Johns
Artist: Paul Pellitier and Sean Parsons
First Publication: 2014
Graphic Novel Challenge Book #3
Summary from Amazon: Unfolding out of the events of "THRONE OF ATLANTIS" comes a mystery that sends Aquaman to the ends of the Earth to solve an ancient murder--one that will reveal a horrific truth about Arthur Curry and threaten those closest to him today.
Also, as the Scavenger compiles more Atlantean weaponry and artifacts, Aquaman enlists the aid of The Others to help find one missing relic in the Southwestern United States before his enemies can get to it and possess untold power.
Collects issues #17-19, 21-25 of the monthly series.
I enjoyed the way Geoff Johns has introduced the Others. The idea that Aquaman headed up his own version of the Justice League appealed to me. Johns kept the suspense at a high level while building on the characterization of the many different players in this series. The mystery of the Atlantean artifacts is especially intriguing.
While Ivan Reis made this his series in the previous issues, Paul Pelletier was a solid choice to follow him. Pelletier started out following Reis' art style but has transitioned to his personal style as he drew more issues.
I highly recommend reading this series beginning with the first issue.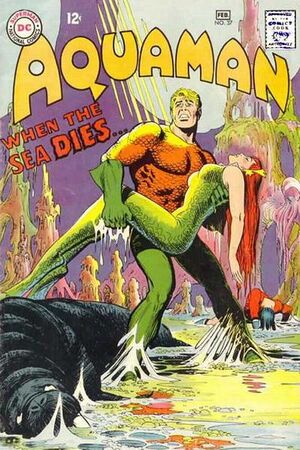 On a side note, it is hard to believe that the Scavenger first appeared in the original Aquaman series (issue #37) in 1968.
His first appearance featured art (including this cover) by the legendary Nick Cardy. Cardy was one of my favorite artists of that era and one of the best cover artists ever.